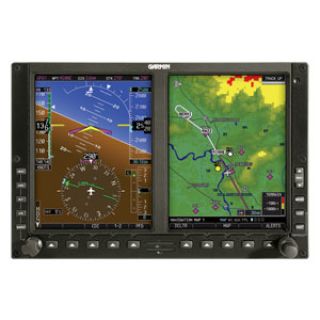 G-500 typically $20,000 installed. G-600 typically $30,000-$34,000 installed
At last, retrofit glass is now within your grasp. Upgrade your avionics panel to the G600 and start reaping the benefits of enhanced situational awareness, safety and pilot workload reduction. This affordable glass system combines a primary flight display (PFD) and multi-function (MFD) display in one 10-inch wide bezel — dramatically simplifying the cockpit.
Scan Flight Data on Dual Screens
G600 combines critical flight data and displays it on two 6.5 inch diagonal flat-panel LCDs. These high resolutions screens are mounted side by side in a single bezel that fits neatly into the "six-pack" slot in your instrument panel. They feature brilliant color and advanced backlighting, so you can view images in sharper detail — even in direct sunlight.
On the left-hand side, the PFD seamlessly integrates all situational information regarding your aircraft's position, speed, attitude, vertical rate, altitude, steering and flight progress. On the right side, the MFD provides detailed moving-map graphics of your aircraft's current position in relation to ground features, chart data, navaids, flight plan routings and more.
Enjoy Advanced AHRS
G600 replaces traditional mechanical gyroscopic flight instruments with Garmin's super reliable GRS77 Attitude and Heading Reference System (AHRS). AHRS provides an accurate, digital output and referencing of your aircraft position, rate, vector and acceleration data. It's even able to restart and properly reference itself while your aircraft is moving.
Enhance Situational Awareness
G600 seamlessly integrates built-in terrain and navigation databases, providing a clear, concise picture of where you are and where you're heading. Using information from the built-in terrain and U.S. obstacles databases, G600 displays color coding to graphically alert you when proximity conflicts loom ahead. In addition, you can augment G600 with optional Class-B Terrain Awareness and Warning System (TAWS) for an extra margin of safety in the air. A detailed Jeppesen® database is used to depict airways, navaids, airspace, airports and more. For safer arrivals and departures, optional ChartView™ — available through Jeppesen's JeppView™ subscription service — lets you overlay your aircraft's position on the electronic approach chart to provide a visual crosscheck. On the ground, view your position on taxiways with SafeTaxi®, a built-in database of over 650 U.S. airport diagrams.
Add Weather and Traffic
Make informed decisions based on weather and traffic with optional sensors and services. With an subscription to XM WX Satellite Weather™ and the addition of the GDL 69 or 69A data link receiver, you'll have access to up-to-the-minute, high resolution weather information for the U.S., right in the cockpit. Weather information includes NEXRAD, METARs, TAFs, Lightning and more and can be laid directly over Jeppesen and topographic map databases. With an additional monthly service fee, GDL 69A delivers XM Satellite Radio to your aircraft. Add a Garmin Mode S transponder, and G600 will also display Traffic Information Services (TIS) alerts that identify surrounding air traffic. For the best in "scan-your-own" weather analysis, G600 can be interfaced with Garmin's GWX 68™ digital color radar. At 6.5 kilowatts, it packs the power to penetrate serious weather.